Welcome One and All!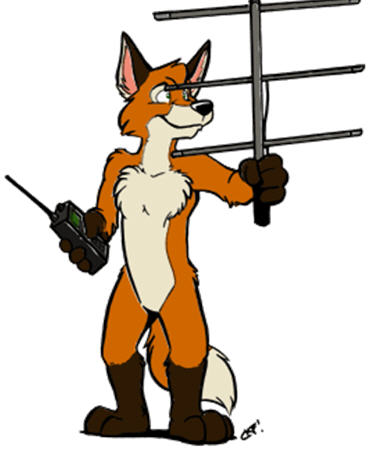 Fox Hunt UPDATE
The Hunt will consist of a total of three transmitters. The first FOX will be Me, KJ4CTZ sitting in my car somewhere in a 35 square mile search area. This should be very easy FOX to find. The neat thing about this first FOX is that we will be using the 146.970 repeater for the Hunt. Why would we do this? Let me explain further;
Suppose there was someone causing harmful interference on this repeater. Well we would like to find that person and when we do (well use your imagination here).
I KJ4CTZ, will NOT be causing any interference but you will focus on my transmissions on the input frequency of the repeater in order to find me. (146.370 is the input frequency). I will begin my transmissions with my call sign followed by a phrase for example: KJ4CTZ "I am the FOX" then I will just continue with a normal conversation with one or more amateurs (maybe even one of you guys/gals. Just remember you must listen on the input (not the output or you will find the repeater (FAIL!)).
This is you cue to focus on my transmission to get a bearing on my signal (**Note a compass & pen will be handy). My transmission will be somewhat short (15-30 seconds) and then I will wait and begin a new transmission again with KJ4CTZ "I am the FOX" and this will repeat. Other amateurs will be talking with me and if you hear their transmissions you must ignore them or you will be lead in the wrong direction and may not find me.
The Hunt will begin at 2PM and all participants should check in using the 146.970 repeater between 1:45PM and 2PM.
The use of the repeater for this hunt will not be more that 60 minutes total time. When the time expires (3PM) I will announce my position and if you had not already found me you can drive to this location and begin hunting for FOX #2. This one will be more challenging as it is very small and well camouflaged. It will be within walking distance of FOX #1 (me). If you find FOX #2 and would like a really tough challenge, ask me where to start looking for FOX #3. I promise you, this one will be tough and if you find it, I will be impressed and you will feel well accomplished.
ALL FOX HUNTing activity will cease at 5PM.
Honestly, I expect many participants to find FOX #1 within 20 minutes or less. FOX #2 Maybe about the same for some and may take new hounds much longer. FOX #3, well I truly hope someone finds this as they will have bragging rights!!!
I look forward to this Hunt and I know that we will have great participation as many have already confirmed.
If you do not have an YAGI antenna and an HT radio, feel free to team up with someone who does. You may work as a team. (Yes Jimmy, you can even use your Doppler unit if you want to).
Just have fun, learn, be safe and when you find a FOX, move away like you didn't find it as other hounds may still be looking and be close to you.
More details about the hunt, a Map with boundary's and some hints are included in the attachment to this email.
The goal of this website is to provide you with a little information about the Sun Country Amateur Radio Society, our repeaters, some of the activities associated with our group and a bunch of general ham radio information.

We are located in North Central Florida, Marion County, in the town of Anthony, just north of Ocala, FL. We are about 90 NNW of Orlando, about 75 miles from the east or the west coast of Florida and about 35 miles south of Gainesville. MAP

Our group is more of a social group rather than a official structured club. We get together every 2 weeks and meet at one of the local restaurants in town for some food, fun and relaxation. We start at 7:00PM and continue on until we are ready to call it quits for the evening. Our next meeting is at Golden Corral on Tuesday - February 28th, 2017 @ 7:00PM .

If you would like to learn more about ham radio, if you think you have some interest in ham radio but would like to learn more or if you are a local ham operator looking for a great group of people to socialize with, we encourage you to come and join us. Everyone is welcome!!
---
GOOD NEWS! - More Bandwidth
The server has been running on a cable TV Internet service that has bandwidth speeds new bandwidth speeds at a little over 200mbs. Response should be a little better than it has been and if you download any files from our server, download times should decrease. So far making this change has improved the traffic handling significantly on our end. Let me know if you experience any problems.

Even though the website has been completed, there will always be things to update. For the most part, the core information is complete.

It took a lot of time to get everything moved over from the old website and then move the server to the new network without any interruption of service. There will be some things that I will add from the time to time. If you can't find something you were looking for, let me know and I will try to restore it back as it was. Otherwise we'll try to keep the information here as up to date as we can.

Updated: December 13th, 2016, 10:38AM
---
We fixed the 2 polls that we have online. The problem was that they were set to closed automatically after 2 months. This has been corrected and the polls are now open without an ending date.

Posted: March 25th, 2016
---
UPDATE: Some mail servers are not accepting email from our server. I am doing my best to get this resolved but it is taking some time. Please be patient while we work on this issue.

We continue to tighten the security of our mail server to ensure that SPAMMERS do not get access to it. In reviewing the mail server logs we can see that many people have attempted to hack their way in. We are now compiling a "Blocked Sender" list that the mail server uses to automatically reject mail from know SPAMMERS. We are also using a few SPAM detection services to block SPAM. As always, we strive to provide the very best SPAM FREE services possible.

Updated: January 9th, 2017